This tag was created by Aine & Writing on a Vintage Typewriter.
I've been lucky enough to be tagged by the Charley on the Books and Bakes blog. Thanks for this Charley, I'm very grateful as this is the first nomination I've ever had. Although it's taken me some time to get round to this I hope I've done it justice.
Croissant: Name a popular book or series that everyone (including you) loves.
I've read this several times over and being an engineer this is required reading. I'm not sure why but it just is. The humour is evident from the cover " A trilogy in five parts" and this type of matter of fact humour that takes you by surprise is there throughout the series, but get's less frequent as the series goes on. It's got some brilliant thoughts and sub story lines that makes you wonder if Douglas Adams either had great foresight into the future stories or either was random and made it up as he went along. If you ever find someone babbling on about Vorgons, laughing about the number 42 or mumbling about towels and the phrase don't panic, don't worry they're not dangerous, just an engineer that's read this book.
Macaron: Name a book that was hard to get through but worth it at the end.


This book isn't everyone's cup of tea and is a bit of a departure from my normal reading. I was intrigued when I heard about The Prince. A book written hundreds of years ago about how a prince would get, and keep his throne of power. The language hasn't been changed and is old and sometimes hard to understand. But it was an eye opener and an insight into the corridors of power that exist (I'm not turning into a maniac hell bent on world domination…. yet).
Vol-au-vent: Name a book that you thought would be amazing but fell flat.


I read this book when I was in my 20's (surprised I can remember it). I had seen it and looked at the story summary on the back and it sounded like a good read to me. What hard work and what a let down. I finished it, despite it being larger than the average novel. There was nothing wrong with the plot itself and there were some good parts to it that I enjoyed. On the whole I think the authors were trying too hard with making names and an alien language and made it difficult and complex to follow.
Pain au chocolat: Name a book that you thought would be one thing but turned out to be something else.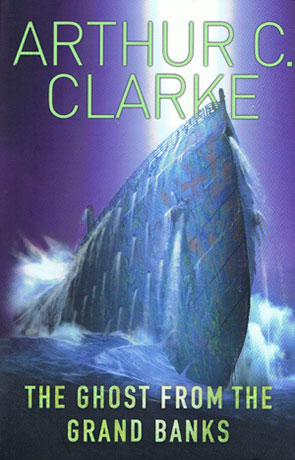 I was expecting a bit a ghost story from this book, something that was still there on the Titanic  that some undersea explorers found. The only thing like this was the preserved body of a girl that was found on wreck. Apart from this it was a scifi on Earth story with what has to be said a sad ending. The curious thing about Arthur C Clarke is the few pages he writes at the end of the story, the little story that comes (normally) way after the main story has ended and this was no exception and as always left something for the reader to ponder over and fill in with their own imagination.
Profiterole: Name a book or series that doesn't get enough attention.
I never had the chance to read this when I was younger and I wish I had. Many of the stories are short, yet they contain many avenues that could be used for discussion. Holmes apparently eccentric behaviour and thirst to solve the puzzle are addictive. I read the entire series last year on ebook and my only problem was that I wish I had read it years ago and should be used more as required reading in schools.


Croquembouche: Name a book or series that's extremely complex.


I've an admission to make here, I've not read this. I started and got a few pages in and have stopped for now. The book started by trying to explain who's who, fighting who and why and I'm sure when I'm in the right frame of mind I'll get it.
Napoleon: Name a movie or TV show based off a book that you liked better than the book itself.
I've not really had a TV series or film I've liked more than the book. So Turning this question around I've put the Lord of the Rings in here. I loved the films so much and I saw them first before reading the books (that's a crime really). On reading the books I was amazed at how much of the true stories were taken out of the films.


Empanada: Name a book that was bittersweet.
I'm going to have to cop out a bit here and second my friend Charley here. I read this at school and is the most bitter sweet story I've read. Sure some have has sad parts in them, but this wins no matter how I try and find an alternative.
Kolompeh: Name a book or series that takes place somewhere other than your home country:
These stories takes man far from our world to the beginning of mankind and far beyond. Arthur C Clarke is just the most inspired science fiction author ever and I enjoyed reading all of these and now I've thought about it I want to read them again!
Pate a Choux: Name one food from a book or series that you would like to try.
I would like to try the Lambas bread from the Lord of the Rings, one bit is supposed to keep a man going for a whole day, I could do with some of that sometimes.
I would like to thank the lovely Charley for this nomination. We're talked lots about different books and book series and I hope this has given some insight on my reading likes and dislikes to her and the rest of my readers.
I nominate:
Lucy @ blondewritemore
Shannon  @ booksthatloveyouback
Aubrey @ ifmermaidsworesuspenders
Claire  @ clairehuston
Cricketmuse @ cricketmuse
I've nominated these bloggers because they've been great to talk to, interesting to read. There's no pressure to take part, you can ignore this is you've done this before or are too busy. It would be great if you could though and I would love to see all of your answers.
Simon 🙂